The 'peri-urban' hinterland, the area between and around cities, shows the extended footprint of human settlements. Both poor and rich sprawl into the peri-urban, often in the line of flood, fire, storm, sea-level rise and other climate hazards. To improve the climate resilience of cities we have to start in the peri-urban.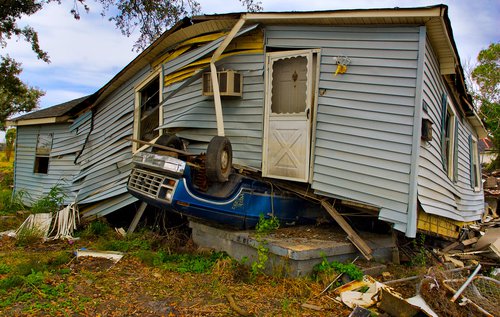 Photo by John Middelkoop on Unsplash
BACKGROUND
In many parts of the world peri-urban settlements, both rich and poor, lie directly in the path of disruptive climate change - for example -
hurricanes in Central America and South East Asia
wildfires in Australia and California
fluvial flooding in the UK and other parts of Europe
Much peri-urban development also reduces the capacity and resilience of its host city -
coastal mangroves are cleared to make way for hotels and golf courses
historic water management systems are filled in
forests see invasive development, with disruption of natural fire cycles
On the positive side, there are great examples of rebuilding the 'eco-urban' resilience. Such 'adaptive pathways', aim to combine new forms of ecological stewardship, collaborative governance, agro-ecological farming, digital technology, integrated water management, local jobs and livelihoods, low impact coastal defence, and so on.
With around 50 million per year arriving in peri-urban areas, it seems urgent and imperative to steer the path of development towards resilience and sustainability.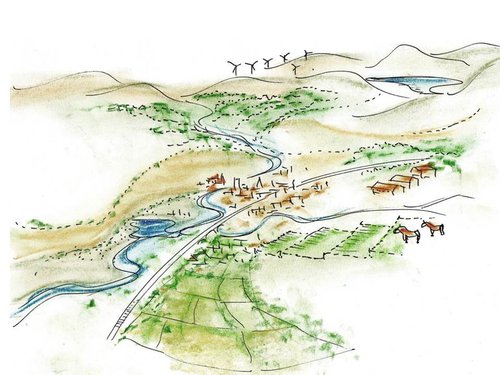 THE PROJECT
The Peri-cene project aims to provide the first ever comprehensive assessment of global peri-urbanisation, with its climate impacts, risks and vulnerabilities.
We aim to provide new peri-urban spatial mapping with an interactive - P-CAT tool. Then we engage stakeholders in policy dialogues to explore the nature of the problem and possible ways forward. We will host the development of 'adaptive pathways' in a Policy Lab of 21 city-regions from around the world. And we look in detail at contrasting Case studies: from the global south in Chennai (India), and Manchester Region (UK).
To find out more about the project - download the project flyer and slides, and visit About the project
To find out more about the organizations and researchers involved, visit Partners and funders
Our project outputs can be found in Project resources
Front page image: by Rémi Kaupp CC-BY-SA (http://creativecommons.org/licenses/by-sa/3.0/)
UPDATE
As of November 2020: The COVID-10 situation has caused long delays to the program: meetings with stakeholders are still difficult / impractical, and many policy-makers are focused on shorter horizons more than longer. The movements of the research team was severely restricted, and universities / research labs in many countries were basically in lockdown.
The project was granted a 6 month extension (of time not funding): it will now run to 30th November 2021. As of now, near the end of 2020, the project program is at its mid-point.
.
NEWS ITEMS
1st Mediterranean Assessment Report
The MedECC climate project on the Mediterranean area has just won jointly (with the International Commission against the Death Penalty), the "2020 North South Prize of the Council of Europe".

This is a fantastic recognition of the MedECC Coordinators and MedECC Science Officer in particular, together with the MedECC Lead Authors and Steering Committee.

This is the initial release - "the 1st Mediterranean Assessment Report entitled "Climate and Environmental Change in the Mediterranean Basin - Current Situation and Risks for the Future" prepared by MedECC, the independent network of Mediterranean Experts on Climate and environmental Change founded in 2015, is released today." (Lead authors include Joe Ravetz of the Peri-cene). The report is available via this link: <https://www.medecc.org/first-mediterranean-assessment-report-mar1/>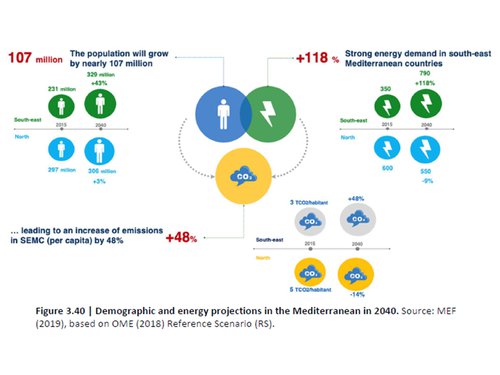 City & Region program
The City & Region seminar series is hosted by the Auroville Institute for Sustainable Architecture, together with the Indo-German Centre for Sustainability, Tamil Nadu, India https://www.facebook.com/EngagingCitiesInitiative/
The session on 18th September presented the Peri-cene ideas with interactive polling and indepth discussion. It seems that conventional models of 'resilience' or 'adaptation' are not enough in the face of deeper and wider challenges – we need transformational models to get the science/tech, economics, politics, culture and psychology all working together – a kind of 'collective resilience intelligence'. It's also possible that historic ideas on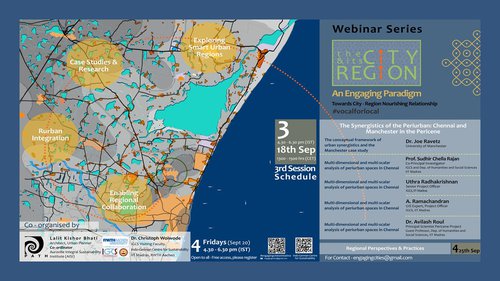 inner harmony, can be translated into eco-design principles. Presentations & background papers are on https://www.dropbox.com/sh/fnvztutg85k8k1j/AACqlche8HgcoQcdGpe8f19va?dl=0
.
IGNITION project
The ground-breaking IGNITION project gets under way - https://naturegreatermanchester.co.uk/ground-breaking-ignition-project-gets-under-way/
Partners across the city-region have signed a multi-million pound European contract for a project which looks to develop innovative ways of financing natural solutions to deliver resilience to increasingly extreme climate hazards. IGNITION will run for up to the next three years backed by £4 million from the EU's Urban Innovation Actions initiative, in a significant announcement made a week after the Mayor of Greater Manchester's second annual Green Summit. There is much cross-over with the Peri-cene project, which focuses on the peri-urban trans-boundary issues in GM and beyond, with a focus on longer term climate change risk and resilience.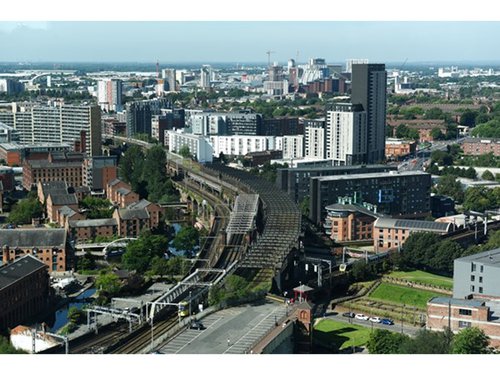 .
LOOPER project
The Learning Loops in the Public Realm www.looperproject.eu - concluded in October with a joint launch event - https://www.polisnetwork.eu/event/mobilising-mobility-towards-sustainable-mobility-one-neighbourhood-at-a-time/ - combined with a Loco-gov-3.0 Synergistic Conversations
This project is highly relevant to the governance theme of Peri-cene – i.e. how does collaborative governance or ecological stewardship really work? how to structure debate and decisions at multiple levels, on complex issues of risk and resilience, with large numbers of stakeholders? Can the digital platform help with 'learning loops', where communities and policy-makers can learn about problems and solutions in a positive structured way?
.
Deeper City launch
For the Peri-cene challenges of climate change, sprawling cities, dysfunctional governance – there are powerful insights from the new book Deeper-City-Collective-Intelligence-and-the-Pathways-from-Smart-to-Wise (with background on Synergistics). This explores the workings of such deeper challenges, with wider communities and further transformations. Deeper City maps in practical detail the collective intelligence of cities, economies, technologies and so on, with the help of creative visual systems thinking – for instance we see here the circul-onomics principles of synergy between economic, social and ecological value….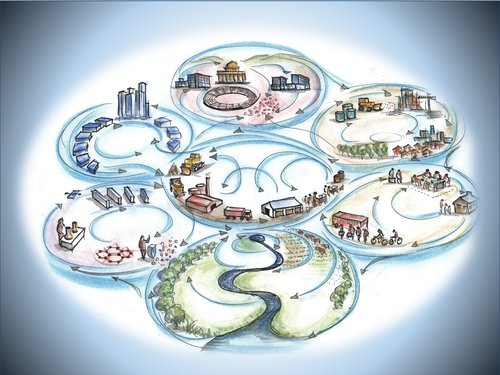 Synergistic Conversations
The Synergistic Conversations launched in July 2020, as an open program of learning, thinking and innovation – creative 'connect-think-do' sessions. Each Conversation explores a leading question within a wider theme: cities, economies, ecologies, technologies, politics and toolkits.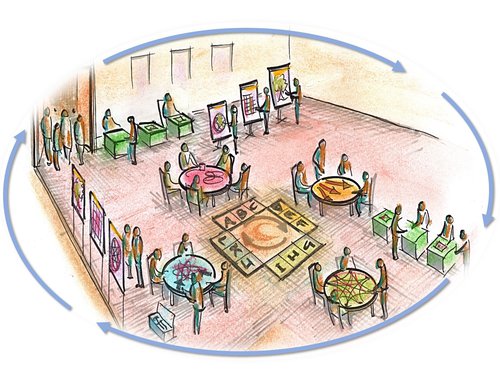 With the help of forward thinkers from around the world, the first phase (hosted in Johannesburg, Manchester, Chennai and Moscow), has set the scene for some pressing challenges – pandemics, climate chaos, invasive technology, fractured cities. We are now exploring each in turn, with the methods and tools for collective intelligence, and starting to map the practical pathways 'from smart to wise'. (See the link for all background materials). Selected events, most relevant to Peri-cene, include:
Aug 25th: Pandemic-city 3.0: the post Covid-19 urban agenda, 'from crisis to transformation' (hosted by the South African Centre for Cities).
Sept 11th: Deeper Covi-City 3.0: the pandemic has brought conflicts to the surface, but also potential for transformation – here we explore the 'collective urban intelligence' in turning crisis into opportunity.
Sept 18th: Anti-city 3.0: 'Cities but not as we know them': building collective peri-urban intelligence in a fragmented world (hosted by the Auroville Institute for Sustainable Architecture, India).
Oct.20th: Lo-co-gov-3.0: Many voted to 'take back control' – but what and where is this control? We need new models for local collaborative governance, unlocking human resources with 'collective local intelligence': (in combination with the Looper project).
Oct 23rd: Deeper-city-3.0 (bio-regional): exploring the potential of social innovation & policy networks based on a 'collective eco-urban intelligence' (hosted by Universidade Autonoma Baja California, Mexicali).
Oct.30th: Green-deal-3.0 (circul-onomics): new livelihoods with a 'collective climatarian intelligence' – how to get the science/tech, economics, politics, culture, psychology and urban systems all working together?
Nov 20th : Smart-wise-3.0 (rethinking cities): towards a new normal of distance & isolation (hosted by South Asian Institute for Advanced Research and Development)
Jan 29th: Peri-cene-3.0: (future proof cities): 1 million arrive each month in the peri-urban zone, in the path of fire, flood, drought, tide & storm… what do we know and what can be done?? (double east / west session, with the Peri-cene project).
Feb 12th: Green Local-onomics-3.0 (deep regeneration): for peripheral cities and regions, how to mobilize a low-carbon transition using all human resources? (with the EU 'Industrial transitions' program).
Mar 26th (tbc): Food 3.0: less land + more people?? exploring collective food intelligence for global-local agri-food systems, combining hi-tech with ancient wisdom (hosted on-site by Alara Wholefoods London)