The Peri-cene Policy Lab is a unique coming together of city-region partners from across the globe, to diagnose problems and map out adaptive pathways for 'climate-proofing the peri-urban'.
The Policy Lab helps to build 'collective eco-urban intelligence' around peri-urbanisation and climate risk. It brings together public, private and civic sectors with researchers. The practical applications include:
Peri-urban spatial planning and climate risk and resilience
Environmental resource management & urban infrastructure
Financial and real estate sectors
Social economy & community enterprise
The key activities include:
International workshop in mid-2021 in Stockholm (date to be confirmed)
Interviews with partners and a series of dialogues by webinar;
'P-CAT' Peri-Cene Analysis Tool for spatial development / climate risk & resilience:
Pathways Tool for dialogue on innovations and ways forward.
The policy lab work will be supported by the P-CAT and P-PATH tools.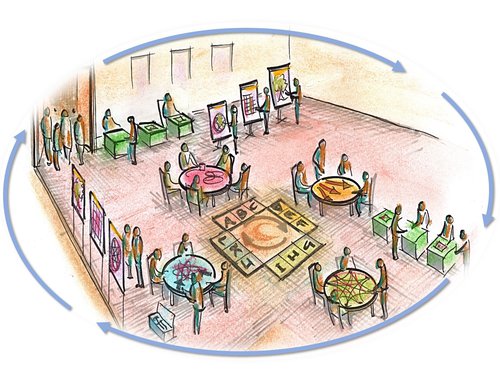 The general process follows the Synergistic toolkit
This is structured in 4 stages over 18 months (mid 2020-late 2021):

1) Systems / Baselines, for the present (what's the problem?)

2) Scenarios / changes, for future trends (how could this change?)

3) Synergies / visions, for future ideas (what could be possible?)

4) Strategies / pathways, for present action (who does what when?)


Who is in the Policy Lab?
16 city-regions are signed up Partners: Melbourne, Changsha, Surabaya, Bangkok, Cairo, Johannesburg, Kumasi, Naples, Helsinki, Belo Horizonte, Toronto, San Diego, and Mexicali (along with the major case studies in Chennai & Manchester region)
Associated partner city / regions also include: Victoria (AU), Tokyo, Guangzhou, Dhaka, Doha, Moscow, Granada, Stockholm and Santiago.
The partners and associated partners are supported by three inter-governmental organisations: UN Habitat, UN Global Cities Compact, and ICLEI (International Council for Local Environmental Initiatives). Many of the partners are also members of the Rockefeller 100 Resilient Cities community.
Together, these Partners represent the major urban types and climate risk types, from both developing ('urban South') and developed countries ('urban North').
More information on how the policy lab works can be downloaded here
Policy-Lab partners
The partner city-region pages are being posted here: (so far 7 out of 21 are up).
Each of these is a pilot version with background information, in preparation for structured dialogue.
SOURCES for the following city-region pages include:
Climate-environment hazards: World Bank database on Think Hazard portal
indicies: region / province level data where available, otherwise national.
Governance indices: generally national level data from composite indicator libraries:
BTI = Bertelsmann Transformation Index
SPI = Social Progress Index
WGI = World Governance Index
Peri-cene Framework
These city-region case studies each use the Peri-cene Framework. This includes 4 key themes:
peri-urban and spatial development;
climate change hazards and impacts;
vulnerabilities, both physical, social and economic;
governance, both formal, informal and collaborative.
These 4 themes form the main structure of the '20-questions' template, as seen in the case studies
The Framework also includes 2 main 'Models' or levels of analysis:
CAUSAL MODEL: shows (as far as possible) tangible & functional cause-effect problems & responses
SYNERGISTIC MODEL: shows (as far as possible), Strategic, systemic, deeper & wider chains & multipliers, first in the problems, and then in the responses.
The combined responses from both Models then form the 'adaptive pathways' - combinations of governance, social, technical, economic and cultural change.