Manchester Region
(these pages under construction)
(for tables see the full Manchester region framework
The Manchester 'wider' region is centred on the UK's second city, a hub of investment and innovation, and a global destination for culture sport and science. It is also a sink of deprivation, low productivity, poor health and housing.
Greater Manchester is at the centre of the region, home to 2.7 million people with an area of 1,277 km2. Peri-cene case study then looks at a wider hinterland of between 40-60km radius, a combined social-economic-ecological region, with many overlapping boundaries:
Physical bio-region: water catchments, topography, climate impacts;
Physical eco-services: land-uses, agricultural types, urban expansion;
Economic region: commuting, labour market, housing market;
Social region: other layers of local identity, migration, tourism etc;
Administrative & statistical region: governmental & data boundaries;
The spatial mapping in the Manchester region framework shows something of the complexity of the geography and its dynamic changes. So the Peri-cene has focused on two main zones of interest: an inner urban fringe with flood risk problems, and an outer hinterland with combined issues of climate change and peri-urbanization. Each has several overlapping units and boundaries, as on the map below:
Greater Manchester (GM), is at the centre, including 10 local authorities
Irwell river basin, a catchment covering 7 local authorities, 4 of them in GM:
South and West Pennines, a landscape type (Natural England Area 36), located between 3 major conurbations and crossing into 13 local authorities
Cheshire East, a more rural local authority with low mixed farmland and a wider economic radius from GM
Overall, this wider region has a relatively mature system of spatial planning and governance for a largely urbanised population with medium growth. However, there are major issues with housing pressures, economic and social segregation, urban-rural disconnections, fragmented climate-environment governance, and an uncertain policy context in the context of Brexit.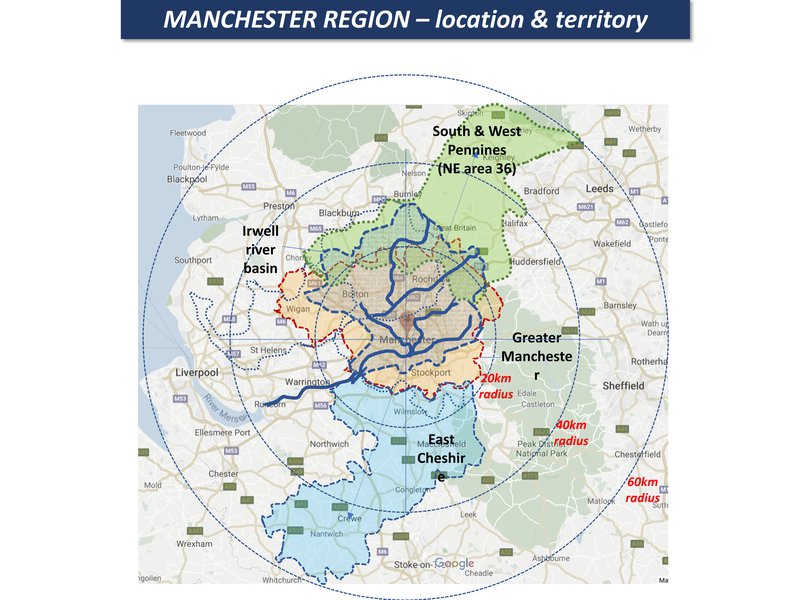 Manchester Region
.
A thematic map compilation - a working 'Atlas of the peri-urban' is available here
(preliminary work in progress)