Project structure
.
Peri-cene is organised as a multi-level partnership. The project links a global assessment with local case studies. This is done across two 'pillars' where Pillar 1 provides analysis and Pillar 2 provides 'co-design' activities.
Work Package (WP) 1 – Analytic Framework;
WP2 - Geospatial Analysis (global assessment & interactive tool on peri-urbanisation and climate risk)
WP3 – Policy Lab (a research-policy community representing 18 city-regions around the world)
WP4 - Case Studies in India and the UK (in-depth analysis of the Chennai region (India), and the wider Manchester City-Region (UK), using findings from WP1, WP2, WP3)
WP5 – Pathways and synthesis (a structured co-design process for co-design scalable and transferable solutions).
WP6 – management & dissemination
.
.
---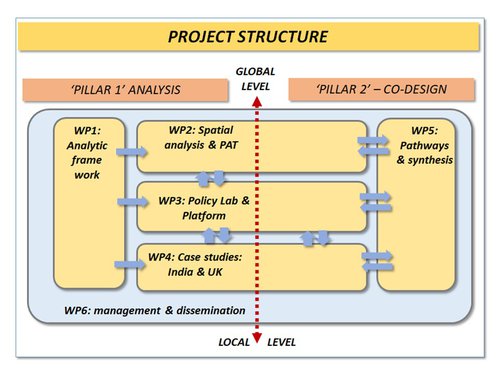 .
.
---
Deliverables
.
This is the full list: at the moment the downloads here are interim in review, and others are in the pipeline.
.
.
WP1: Framework
D1-1 Overview of agenda: Review of peri-urban / climate-env. literature & policy
D1-2 Project Framework : Outline of peri-urban / climate-env. / adaptive governance framework
D1-3 Framework final:
WP2: GEO-SPATIAL
D2-1 Spatial analysis of urban-env change: Review of peri-urban / climate-env: data, analysis, modelling
D2-2 Peri-urban Analysis Tool (PAT): Software & brief report: sources, specs, user guidance
D2-3 Spatial analysis final
WP3: POLICY LAB
D3-1 Knowledge Platform: Online knowledge platform with PAT & partner dialogues
D3-2 Global peri-urban issues: Review & analysis of peri-urban issues & challenges:
D3-3 Global peri-urban synthesis & recommendations
WP4:CASE STUDIES
D4-1a Review of peri-urban issues & challenges (Chennai): Overview of urban / peri-urban / climate-environment change & vulnerability
D4-1b Review of peri-urban issues & challenges (Manchester): Overview of urban / peri-urban / climate-environment change & vulnerability
D4-2a Synergies, pathways & road-maps (Chennai): Synergies, visions, transformations: policy opportunities, innovations, pathways
D4-2b Synergies, pathways & road-maps (Manchester): Synergies, visions, transformations: policy opportunities, innovations, pathways
D4-3a Synthesis & recommendations (Chennai)
D4-3b Synthesis & recommendations (Manchester)
WP5: PATHWAYS
D5-1 Towards Adaptive Governance (part report): Governance & institutional issues & challenges: Review & analysis of peri-urban governance & institutional challenges
D5-2 Policy & governance innovations & pathways: Review & analysis of innovations & pathways: workshop plan & outcome of stakeholder dialogues
D5-3 Global peri-urban synthesis & recommendations
WP6: MANAGEMENT
D6-1 Management plan Quality assurance plan, Consortium Agreement, process management plan
D6-2 Communications plan Communications / design, online platform, outreach / dissemination plan
D6-3 Dissemination package Final synthesis report & toolkit for external users