Peri-urban change
Within the urban area, the historic city is tightly defined with very high densities in the centre, and little change in 25 years.
Outside the urban areas, there is a large population in the medium band (750-7500p/km2), which has grown steadily at around 1% per year. Population in the lower density areas has doubled meanwhile.
Peri-urban development is mainly in standard high rise blocks, which replace traditional agricultural lands. Rapid expansion of housing & industrial areas into former rural areas. Grid patterns are overlaid on a rich & complex landscape pattern.
As capital of Hunan province, economic growth & restructuring has doubled its population in 30 years. Rapid development of road network has promoted peri-urban locations. New AirBnB type rental sector.
Rapid change & urbanization of rural areas & communities: Lower income areas are spread around. Government compensation for land acquisition promotes new urban lifestyles.
Changsha is on new high speed rail network, with a flow of higher income groups & enterprises.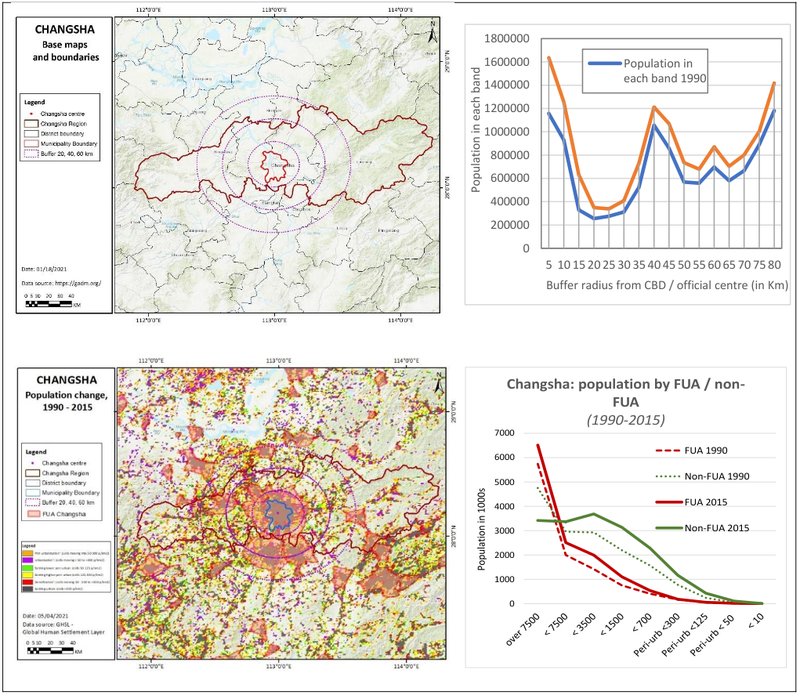 Climate change issues
Large increase precipitation in winter is projected, smaller in summer. Temperature increase between 2-6 degrees by 2100
Riverine flooding is already annual, will increase, mainly in the river valleys due to topography. Lakes to the north are seasonal with large fluctuations. Temp rise may change ecosystems with new diseases & pests.
Changsha is prone to flooding from the overflowing Xiangjiang River. One of the most recent flood disasters happened in September 2020 (Xinhuanet, 2020 - https://bit.ly/2Oq5UOp) with the collapse of over 21,000 of homes and 628,000 hectares of agricultural lands damaged.
Hinterland of small hills shaped by rivers, prone to flooding, with unique wetlands: near urban areas are developed with high flood risk.
Land use is shifting to intensive farming in some areas of level ground.
Around Changsha many low hills with forest cover, with some tree loss in the hinterland. UHI is increasing along with air pollution.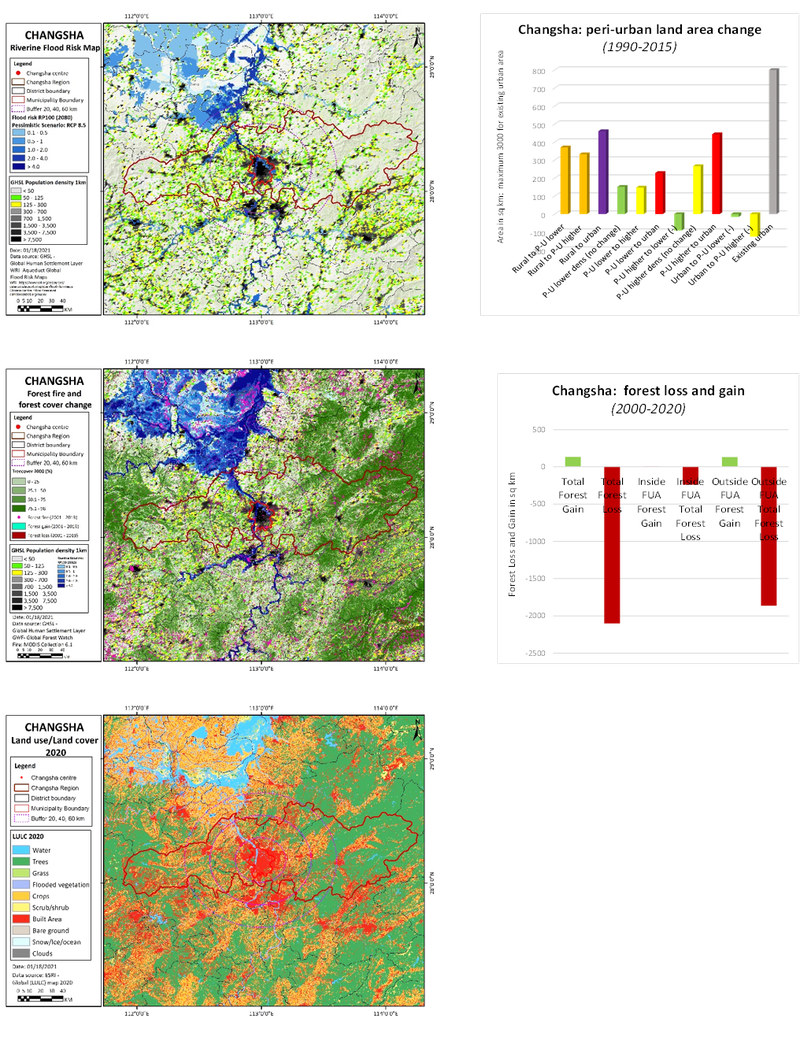 Socio-economic issues
Many settlements are on the edge of water bodies, with risk of future flooding. Landscape to W has unique combination of housing / forest with low paddy fields with frequent flooding.
Rural livelihoods are rapidly urbanized (with land compensation some buy a large car, gamble & start a business). Few have house insurance, but house construction is durable & govt provides basic compensation.
Could be social conflicts between new urban & old rural: social cohesion / capital is lacking in new urban areas.
Governance issues
Generally strong centralized forms of government & public services, but with underlying elite patronage.
Some tension between central, province & city government: & between sustainability & economic growth objectives. Multi-level integrated water & ecological planning is new, also local LID policies & codes.
National Yangtze protection zone : some 'regional sustainable development' zones.
Some civic NGOs are involved, basic citizen participation
An example of the strong influence of central government in Changsha is how the pro-environmental ideology of the President, which, upon his visit to Hunan Province addressed the importance of Xiangjiang River and other ecosystem services within the peri-urban areas as imperative natural capital: this was believed to be a strong factor to the urban containment policy of Changsha.