Changsha region
(The map here shows circles of 20, 40 & 60km radius, a rough approximation to the gravity field).


Changsha region: overview
Peri-urban syndromes: rapid urban & industrial expansion into traditional landscape patterns of hills and forest: disruption of ecosystems & rural livelihoods: development in high risk locations:
Climate change syndromes: riverine flood, storms, landslides: some loss of forest, disruption to soil & ecosystems: is placement of flood to urban areas:
Societal vulnerability: livelihoods & farming in transition: social change & gentrification: suburban expansion & exclusion:
Governance syndromes: economic devt pressures: multi-level disconnection: climate change awareness is lacking beyond the short term:
Adaptive pathways: urban-rural linkages for food, ecosystems, livelihoods: integrated water management & multi-functional land-use: PU climate-wise development:
Adaptive governance: regional strategic climate-wise planning: civil society governance: socio-climatic integration of all policies.
Changsha is a historic centre (e.g. home to Mao Tse-Tung in the 1920s). It is now a rapidly expanding provincial capital, located on a large river system, with a fertile and mountainous hinterland.
Changsha is the Capital of Hunan Province, one of the top 10 most populated regions in China. The growth of urban population has been remarkable from 1.1 million in 1991 to 4.7 million in 2021. Changsha is surrounded by hills, which serve as a constraint to urban expansion.
Peri-urban development is mainly in standard high rise blocks, which replace traditional agricultural lands. Climate risks include storm, heat, wildfire and regular urban flooding. These are generally under control, but as climate change increases, the effects may be very challenging.
Changsha is designed as a compact city, with encouragement of high-rise development. Within the inner-city zone (particularly at the west side of the Xiangjiang River), there are development of industrial estates. This area in particular is strictly regulated where only of those green and high-tech industries will be approved for development.
Urban areas are expanding in a slow rate as the central government applies strict measures in granting development in the peri-urban spaces. The expansion of urban areas is mainly towards the west with enclaves of industrial estates surrounded by low density peri-urban settlements and towards the south forming new suburban centres of high-class medium density residential development.
In the north peri-urban areas, there are sites managed as water reservoirs which is vital to regulate floods. Meanwhile, the west peri-urban areas comprise of agricultural lands and enterprises surrounded by low-density rural settlements.
For every agricultural land being converted to urban areas, the landowners are given great amount of financial compensation from the central government. To some extent, this is problematic as there are tendencies for landowners, who profited from the compensatory scheme, to purchase properties in the inner-city zone. Their migration into the urban areas contributed to the abandonment of agriculture. With uncertainties of jobs in the urban centres and their lack of financial investment literacy, they have been put into severe social and economic vulnerability.
In overall, this compensatory scheme potentially accelerates urban expansion, while at the same time can cause the proses of rural-urban transformation to become socially and economically problematic. However, it is strictly prohibited for individuals and local authorities to put peri-urban lands on market. The utilisation of peri-urban lands fall under the discretion of the central government.
Changsha region: where is the peri-urban?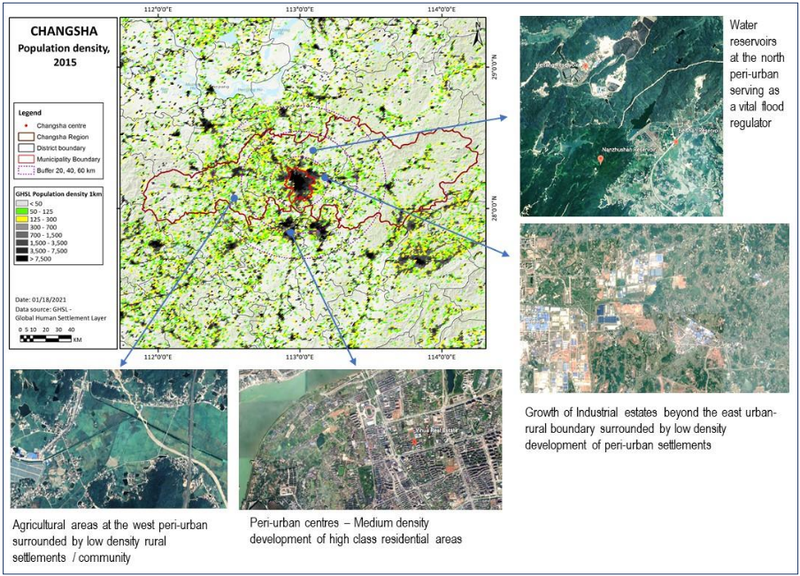 Changsha region: system mapping
Changsha region: summary data
Population density map
This shows three population density bands: 0-50, 50-125, and 125-300 persons/km2: (transparent for open land, and then green and yellow cells). These are in different proximities to the main urban centres, for the moment defined by distances (from the urban centre), of 0-20, 20-40, and 40-60km: titled 'near-urban', 'near-urban: further urban: and ex-urban / peri-rural'.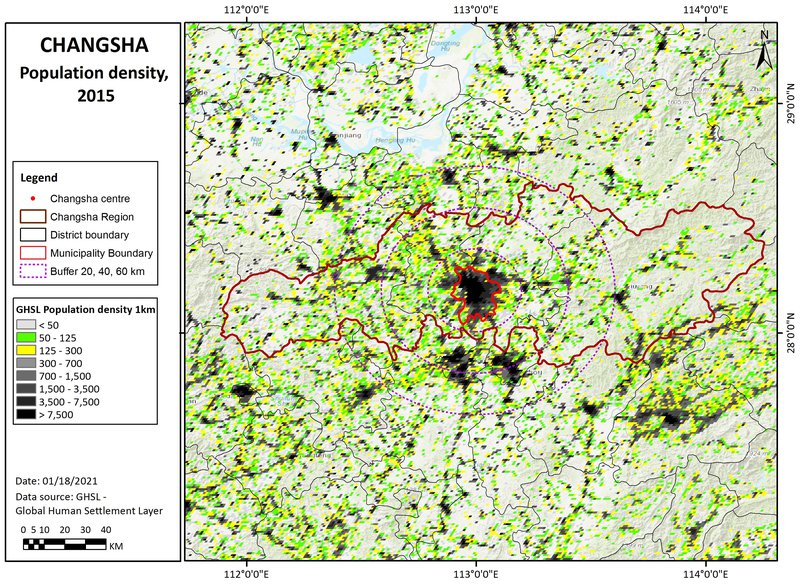 Climate Hazard

(World Bank data profile for Changsha)

Extreme heat                                                - High
Wildfire                                                          - High
Water scarcity                                              - Low
River flood                                                    - Medium
Urban flood                                                  - High
Coastal flood                                                - No data
Cyclone                                                          - High
Tsunami                                                         - No data
Landslide                                                       - Low
Earthquake                                                   - Very low
Volcano                                                         - No data

Climate projections: coastal flooding
Including sea level rise, tidal, and storm surge effects, this is a 'reasonable worst case scenario' for 2080, with reduced policy and pessimistic modelling. This is based on the mapping from www.climate-central.org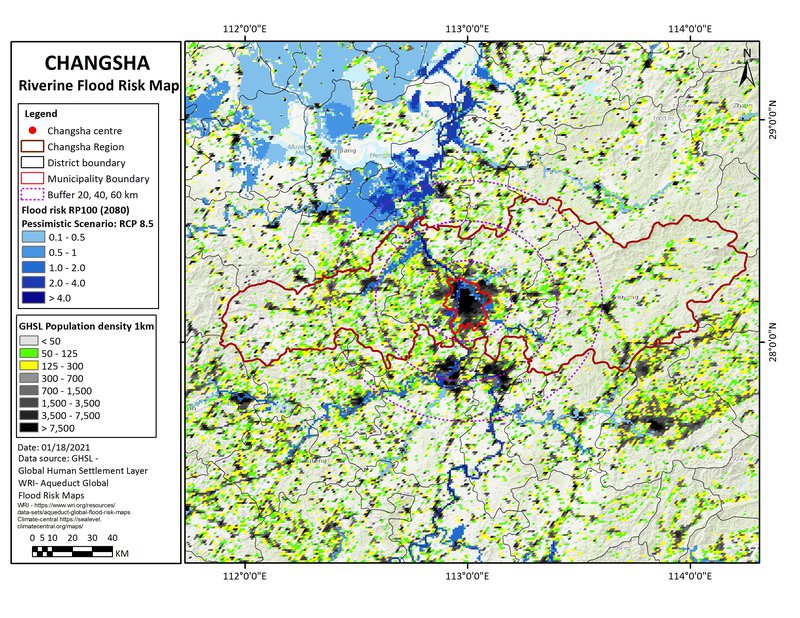 Climate projections: temperature effects
(Top & middle parts include):
(Lower part includes):