The Pathways Toolkit helps to explore a wider and deeper view of the problems and possible ways forward.
It includes the '4-S' process of visual thinking: systems (baselines): scenarios (changes): synergies (opportunities): pathways (strategies). The templates on the previous page show the first step, i.e. the 'factors' question of cause and effect. (For more detail and a 'worked example' see the D3-1 report).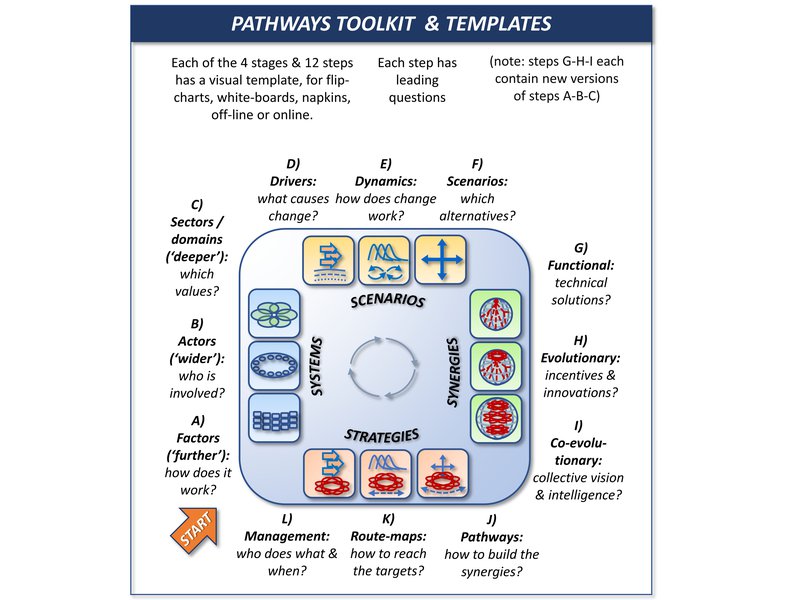 The Pathways toolkit uses visual thinking as the best way to explore, first the deeper and wider problems: and then, the potential responses / transformations / pathways. The steps shown below (in advance of consultation), are general templates, to be filled from round table discussion, flip charts or online whiteboards.


Systems / problem mapping
Step (a) 'Factors': This is a summary of the above 'causal model'. The main direct surface-level problems are shown in the middle of the diagram: some more structural problems are shown above.
Step b) 'Actors':: The actor (round table) mapping is basically a diagram of all stakeholders (in reality they may be around different tables at different times). This helps to explore the relations of power and wealth, knowledge and inclusion, versus dependency, exclusion, peripherality etc. Here we see the problems of extreme inequality in landowning, fragmented governance, eco-gentrification, private sector alienation, etc.
Step c) 'Domains': this is a simple mapping of the various dimensions of the problem – social, cultural, economic, urban, political and technologies… With that in mind we can explore the overlaps between the circles: further versions could put the circles in a different order, with other agendas at the centre of the picture.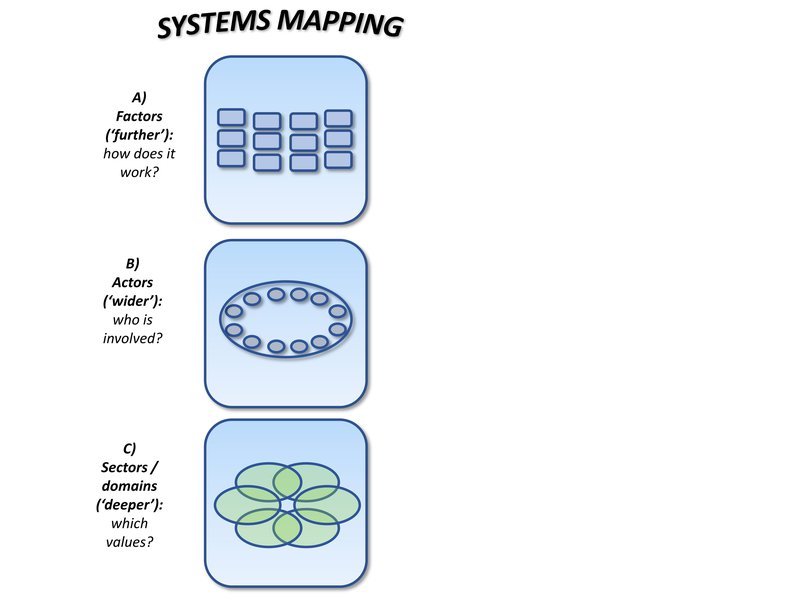 Scenario / change mapping
Step d) 'drivers of change': We explore the drivers of change, both internal and external, both unplanned and intentional. The 'causal layer analysis' in the lower part of the diagram, highlights some underlying 'myths' and cultural archetypes, which may then drive the material changes in peri-urban lifestyles & livelihoods
Step e) 'dynamics of change': this explores further the main forces change over 3 horizons:
Horizon 1 (1-5 years): near term risk of flood, heat, drought, storm, along with housing pressure;
Horizon 2 (5-20 years): changes in urban development, rural farming, climate risks and extreme events;
Horizon 3 (20-50 years): transformation in urban & rural development, catastrophic climate impacts.
Step f) 'alternative futures': these are based here on the 'SSP' scenario set from the IPCC (note, the 'middle' scenario is omitted).
1) 'SUSTAINABILITY': Social-ecological balance & prosperity in diverse landscape
3) RIVALRY': Catastrophic flooding, landscape decline, social inequality
4) 'INEQUALITY': polarization and social breakdown in a managed landscape
5) 'FOSSIL FUELLED': increased flooding, with social inclusion & welfare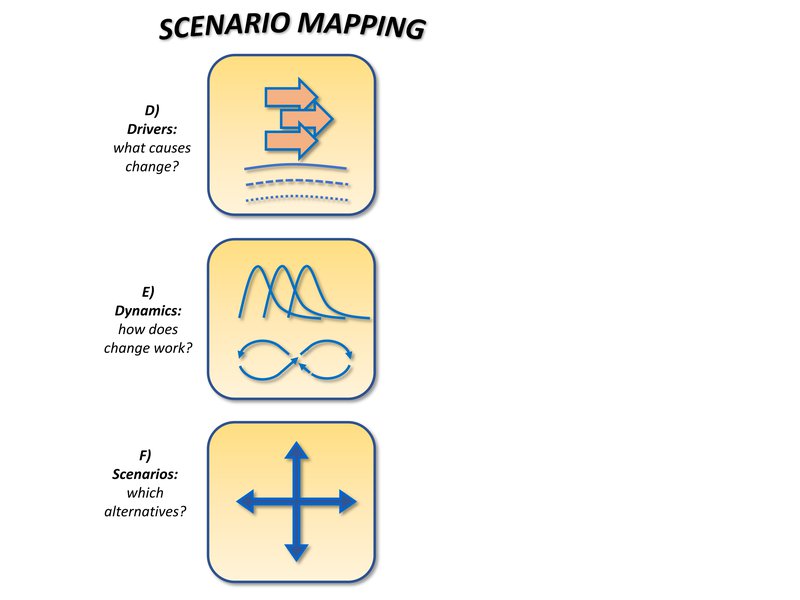 Synergy mapping
Here we look 'deeper & wider', at the potential for shared visions, synergies, collaborations, value-chain innovations, win-win solutions etc. This focuses on the Step 'I', the co-evolutionary potential for collective intelligence to transform 'problems into opportunities'.
i/a) 'synergistic enterprise model': First we look again at the Causal Model (peri-urban, climate, vulnerability, governance): and discuss with stakeholders, what lies behind these problems? What kind of structural / strategic responses could address them? e.g. 'local eco-governance', or 'adaptive peri-urban development':
i/b) 'synergistic round table': we look for potential new synergies, opportunities, value chains, enterprise models etc, which connect the various stakeholders. These can be drawn around the table with the visual mapping, as shown in different lines and colours.
i/c) 'connexus of domains': from the 'nexus' map above, we can now sketch a 'connexus', with potential to turn conflict / crisis into opportunity / transformation: we look for overlaps between different domains (social, technical, economic etc), & for innovations in new value-chains with 'win-win' opportunities.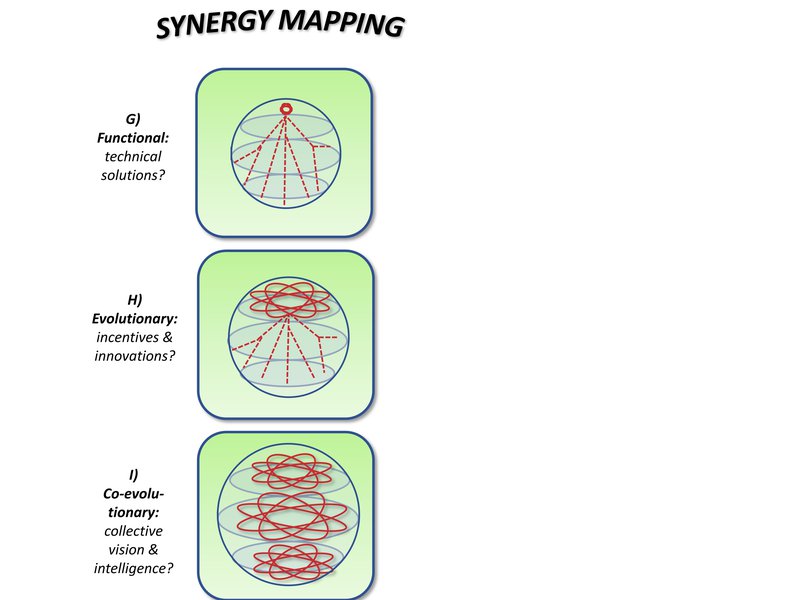 Pathway / strategy mapping
Step (j) 'Pathways': here we explore the most promising pathways, i.e. patterns of collaborative activity between multiple actors. We firm up on who is involved, what logic of synergy / collaboration can work, over what time horizon. Each pathway needs to be resilient to the possibilities of the alternative scenarios, & flexible to respond to opportunities and events.
Step K) road-mapping: works when the objectives are more clear and agreed, when actors and factors / resources are known, then we can design strategic level policies, plans & programs. (Step L - 'Management' can be used in specific projects down the line).