Peri-urban issues
Spatial analysis
Within the urban area the population is concentrated at a medium density of 1500-3500 p/km2 (in contrast to other Asian cities), with steady growth over the period.
Outside the urban area there is around a tenth of the urban population, mainly at similar densities, tapering off into the landscape.
Overall a predominantly urban region with a widespread peri-urban shadow.
Large scale suburban development in peri-urban areas is set to continue. The NW direction & town of Ballarat is on a rail route 75 mins from the city (see area case below).
Political economy of housing, suitable for middle & lower-income groups. E.g. Backas March is a 'bedroom community' with minimal services & local jobs, long commutes.
Mixed demographics, transient communities, overlaid on traditional rural towns, & rural elite 'lifestyle' landowners.
Underlying issues with traditional owners
Much housing is 'buy to rent' & new development is a financial proposition.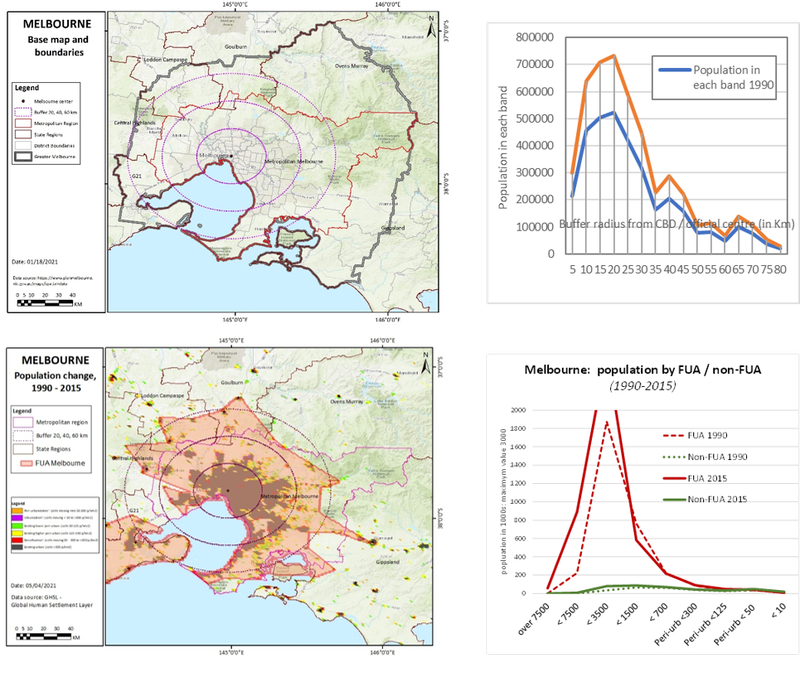 Climate change issues
Temperature projections for 2100 - 1.5 (low) – 5.5 (high).
Precipitation reduces ~20% both summer & winter.
Major wildfire risk is increasing in the hinterland.
Drought periods increase with loss of ecosystems & fertile land
Sea level rise: large coastal areas to SE & SW are vulnerable to 1m-4m rise.
Farming increasingly difficult. Forests are vulnerable to fire & pest
Traditional wetlands ecosystems have to adapt rapidly
Peri-urban development is heavily car based & so contributes to climate emissions, urban air pollution & heat island effects.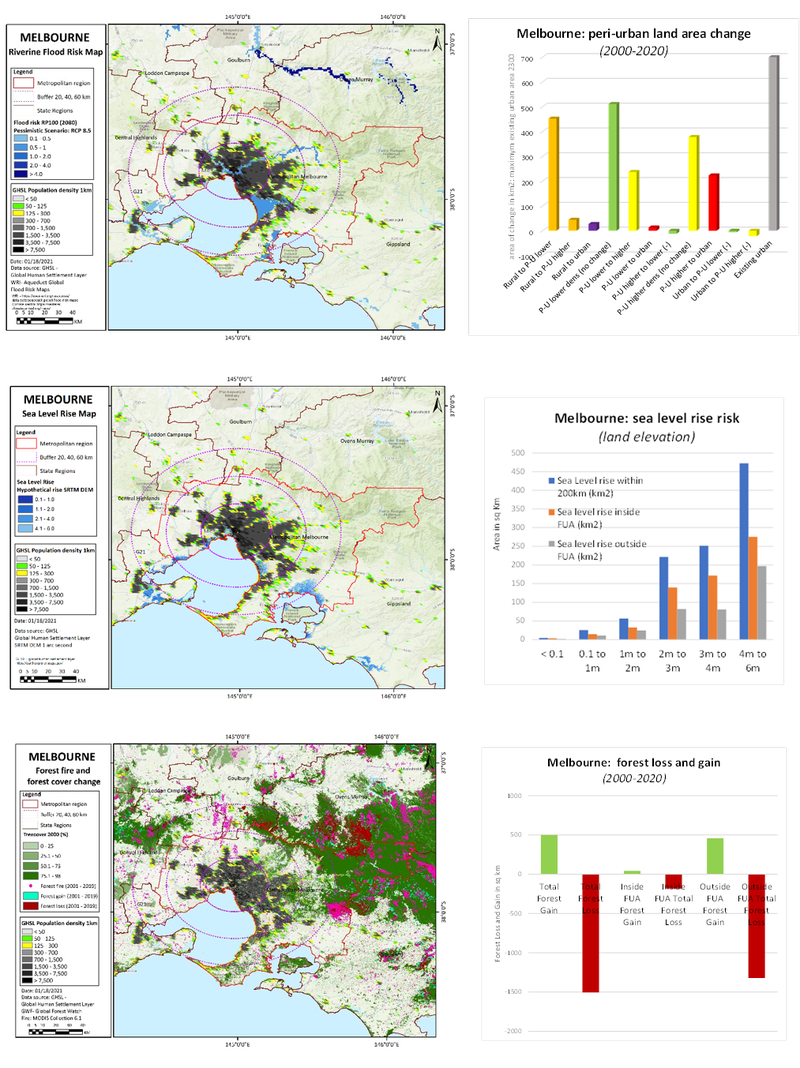 Societal issues
Much water is trucked in to new communities. High value horticulture is intensive production operation, often located on a declining landscape. Nearby national park & tourist areas also under climate stress
Much of the NW area is economically fragmented with 'deprived' groups, ethnic groups, commuters, traditional rural towns, lifestyle 'horsi-culture' landowners, distant landlords.
Inbuilt social structures can increase vulnerability: e.g. in recent grass fires, non-driver women were isolated.
Estate developers & infrastructure providers have no clear obligations for climate-proof design.
Governance issues
Local government generally fragmented & under-funded.
for fire or flood. Competitive tendering for public services.
Some transfer of responsibility to civic groups. But e.g. the fire emergency service has got more closed & centralized.
Some new ways of working with traditional owners are emerging, e.g. in fire management.
Many forward looking state policies & resources on climate change. But in many communities & in national government, culture of denial & scepticism, overlaid on many other social divides & traumas.